Surroundings
La Janda Region
The Region owes its name to the now drained Lagoon of La Janda.
La Janda occupies an extension of 1763km which represents the 23'69% of the area of the province.
To the privileged geographic situation of the Region of La Janda, we have to add also its privileged and warm climate.
This region is formed by eight precious villages that preserve intact their urban planning according to the traditional physiognomy of the andalusian villages. Some of them are located in the interior of the group of mountains: Alcalá de los Gazules, Benalup-Casas Viejas, Medina Sidonia, Paterna de Rivera and San José del Valle; others are located in the littoral area, at the border of the sea: Barbate, Conil de la Frontera and Vejer de la Frontera.
These populations are discovered with a wide variety of possibilities that admit every type of tourism: sun and beach tourism, monumental and cultural tourism, hunting tourism, rural tourism…
Beaches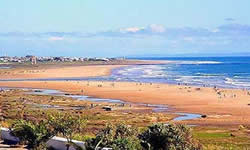 One of the main natural resources of the province is its beaches, of white and fine sand, transparent waters and with the advantage of its great variety.
Despite of being mostly settled in the group of mountains, the beaches are far from Benalup-Casas Viejas, at about twenty or thirty minutes, which improves the conditions for the tourist to enjoy her/his stay.
The nearest beaches to Benalup-Casas Viejas are those of Conil de la Frontera (Fuente del Gallo beach, la Fontanilla beach, and Los Bateles beach), in Vejer de la Frontera (el Palmar beach), the beaches of Barbate (Caños de Meca, El Carmen beach, Zahora beach, and Zahara de los Atunes beach) and a little bit further, the beaches of Tarifa (Bolonia beach, Valdevaqueros beach, and Los Lances beach).
---