History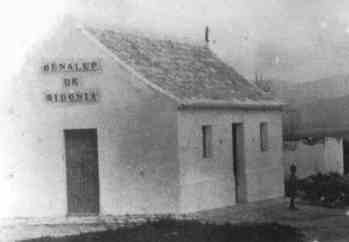 The history of Benalup-Casas Viejas goes back to Prehistory. Since the end of the Paleolithic period until the Metal Age a very important culture was developed, leaving us archeological remains like the cave paintings of Tajo de las Figuras.
Since Prehistory until the Muslim period no discoveries have been found in the village. In the Muslim period they built the Castle or Tower of Benalup, of mudejar style which was a strategic and military point that will give name to the close village called Casas Viejas (2 km far). This village was formed by a shrine, founded by the clergyman Fray Domingo de Tebas, towards 1555, next to its cemetery and a small in. In 1915 it was constructed the current Church of Nuestra Señora del Socorro in this same place, with the money they got by selling the materials of the shrine and with the contributions of the neighbors.
Benalup-Casas Viejas, rather Casas Viejas, is known because of the tragic events of 1933, when many innocent people lost their lives after an anarchist uprising. They just asked for improving their life and work conditions and the only thing they go was to take the village into mourning and the situation changed for the worse though.
The independence fight from Medina Sidonia began in the 50's and it was not until the 20th March 1991 when we got the independency with a township of 5950 hectares. In this date it is celebrated the Independence's Week, where it is carried out activities and the popular release of steers through the main streets of the village.
Casas Viejas changed its name to Benalup, then to Benalup de Sidonia and later to Benalup and Casas Viejas indistinctly and in 1998, after a plenary session due to the 7th anniversary of the Independence, it changed its name to Benalup-Casas Viejas.
The name of Benalup comes from the Muslim tower or castle cited above. Its etymology is complex. It may comes from the Arabic "Benilup", which means "sons of the wolf" or may comes from a Latin word, "Pennalupi" which mean "rock of the wolf".
For its part, the origin of the name "Casas Viejas" is unknown, but it is thought it comes from a great amount of peasant's huts that the village sheltered and characterized the population.
---