Golf Links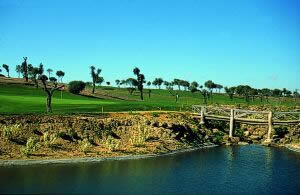 Its location inside of Los Alcornocales Natural Park makes playing golf in Benalup Golf & Country Club, a privilege you can enjoy for a reasonable price.
Benalup Golf & Country Club is a links with 18 holes, PAR 73, with 5 pairs 5, designed by the Belgian architect Baron Paúl Rolin. I is a natural golf links fully made of Terracottem. The route is 6073 meters long with several lakes. It is a challenge for players of every level.
See Pictures Gallery
Location: Click here
Restaurant
With a cozy atmosphere, the restaurant with its kitchen-dining room, makes possible for the visitors to see the making of the dishes, which are quite diverse: from deer of the region, passing by the tuna sushi famous of Zahara, until the fondue in the purest French style.
Infrastructures
Benalup Golf & Country Club has a restaurant and a bar, a links for practicing, putting & pitching green, golf shop, changing room, caddie master and a golf stick room.
The golf master Georges Oosterlynck gives golf lessons.
Fairplay Golf & Spa Resort *****
There are four decorative styles:
Andalusian, Colonial, Asiatic and Paúl Delvaux (famous Belgian surrealist artist)
It has four different types of restaurant: French Dining Room (gastronomic cuisine of the Master Chef Philippe Jégo), Asiatic (flavors of the southeast of Asia), Barbeque at the swimming pool for  a relaxing dinner and Brunch Room, where it is possible to enjoy breakfasts, lunches, and light meals.
Benalup Chalet
It is an harmonious ensemble. It is only built 74 luxury chalets of four different decorative styles: modern, rustic, Scandinavian or Arabic. They are adapted for an all-comfort modern lifestyle.
---