Military architecture
THE TOWER OR CASTLE OF BENALUP
IT CANNOT BE VISITED CURRENTLY
It is located 2,5 km far from the south west of the village. It is popularly called "La Torre de la Morita". It is located over a kind of watchover from where you can easily see the villages of the surroundings.
The castle was an important strategic and military settlement. It seems that it was a Muslim castle from the 13th Century, similar to other close constructions like the Castle of Torrestrella and Gigonza.
The castle keeps a tower keep, small and rough. The entrance to the tower is small with a door. It is a simple room whose light used to enter through the only window of the turret. The stairs lead us to the flat rood, from where a wide and beautiful landscape opens in front of our eyes.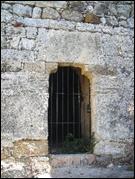 ---